Allegheny County Chiefs of Police Association President:
Craig Campbell
Chief of Police, Collier Township PD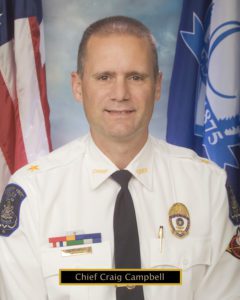 President's Message
It is an honor and a privilege to be selected as your president of the Allegheny County Chiefs of Police Association for 2023. I could not think of a better way to introduce who we are as an association than placing the mission statement within my message as a reminder to all.
The mission and purpose of the Allegheny County Chiefs of Police Association:
-Promote and foster close relationships between the members and the public in law enforcement matters.
-Enhance training and education for municipal police.
-Encourage social, patriotic, and fraternal activities to promote civic and cultural betterment in the communities we serve.
-Create and maintain adequate and proper standards for efficient law enforcement.
-Foster cooperation among all law enforcement agencies and to advocate uniform legislative action to professionalize law enforcement.
That's it, so simple, so few words but these words speak volumes as to who we are.
As I read each one of these bullet statements I reflect as to the great responsibility and accountability that we have as Chiefs of Police. I know that there is not a member of this organization now or in the past that has not taken their position within this profession or organization lightly.
Since 1967 the Allegheny County Chiefs of Police have built a bigger, better, and stronger organization.
Through all the hard work and efforts by all, past and present, we now have better training/ educational opportunities not to mention changes in legislation.
What does that mean for our officers because of these efforts?
We have officers who will provide professional police serves to all of the residents and visitors throughout Allegheny County.
It is said you're never too old to learn something new. We as individuals and as an organization learn something new every day. It is certainly our charge as Chiefs to pass down what we have learned to all our officers within our departments, for them to continue to grow in their roles as professional Police Officers.
I am proud to say that I have been a member of this organization since 2014 and I am humbled to be selected as the president of the organization for 2023. I look forward to working with you throughout the year.
Craig Campbell, Chief of Police Collier Township